The simple answer is yes!
We use sanding machines by Lagler UK. This German company was established in 1956 and Lagler have pioneered the floor sanding machine industry with revolutionary designs and dust-extraction technology.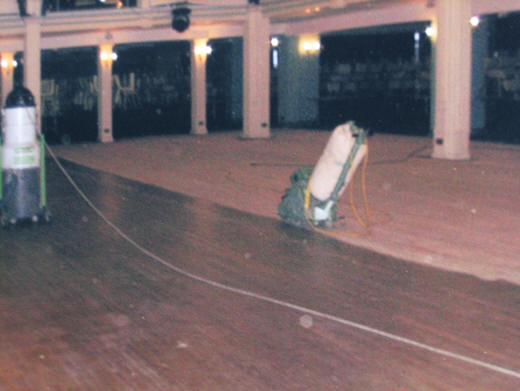 The sanders come with cloth bags that filters out dust as it is created by the sanding process. The dust is retained them in sealed containers, this enables us to sand large volumes of wood floors cleanly and safely. Some of the important features of these machines include the following:
High powered aggressive sanding
Extremely low dust emissions
Change belts in seconds
3x adjustable pressure
Dust free sanding is good for our customers as it speeds up the job and reduces the mess, it is important for our workers as wood dust is damaging to health if exposure happens over weeks and years.
Dust free sanding machines speed up the job
Using dust free sanding machines means that the job can be done quicker with less mess. We will obviously check the floor thoroughly but the way these machines work dust free means that we can get on with applying the finish.
You can then choose from a wide variety of finishes for your floor. These can be lacquers, oils, hardwax or oils depending on the type of appearance and durability required. All of the finishes that we use are environmentally friendly and are hard-wearing. Some finishes may not be suitable for high footfall areas but we can advise on what is suitable.
Don't be put off your floors sanded because of a fear that there will be lots of dust and mess. This is true of inferior machinery or inexperienced tradesmen, but with our dust free floor sanding service there really is no need to worry. If you are considering having your wood floor sanding then call Cameron on 07836 659115 or email for a free no obligation quote at our contact page.